FEMALE PATTERN BALDNESS
KNOW ALL ABOUT IT
Published On 08-09-2021 | By Dharani Senthilkumar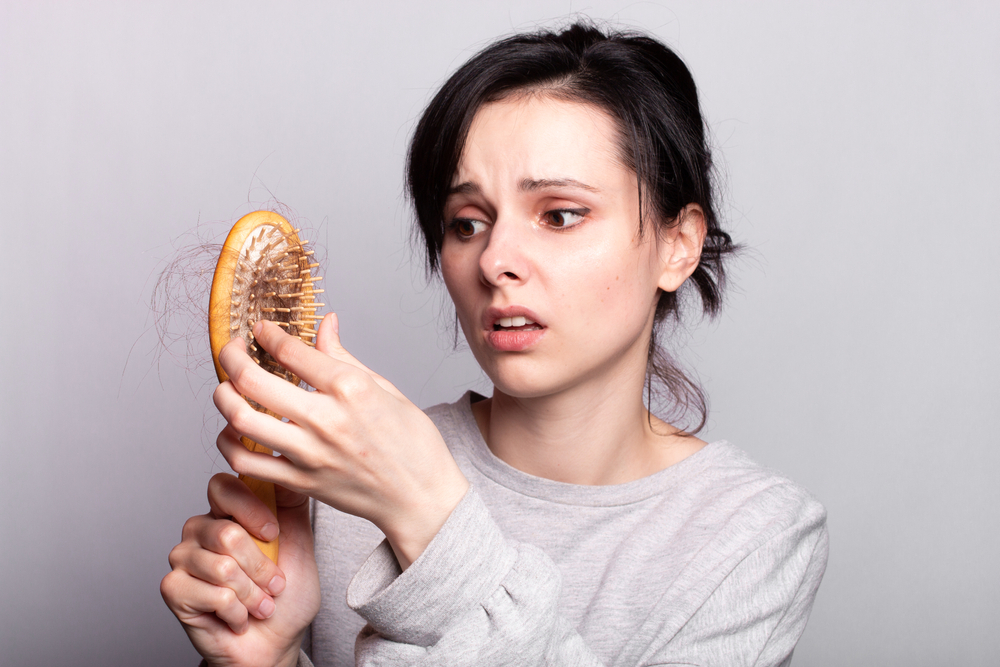 INTRODUCTION
Hair flips, high ponytail, cutting hair short, maintaining flicks, colouring as we need, and what else we have not tried with our lustrous hair. Women carry pride in flaunting the hair they are blessed with. Moreover, a step ahead of exhibiting, they experiment more and would love to stay with the trends. But just like men, women too face female pattern thinning and
hair fall
during their mid-life. The difference is that, women start to lose hair in a manner right from their partition, called
female pattern baldness
which will be analysed as grades.
While a drop in density of the hair is Grade 1, moderately visible empty patches are grade 2, and severe conditions are Grade 3 where obvious open spots are present.
HAIR GROWTH CYCLE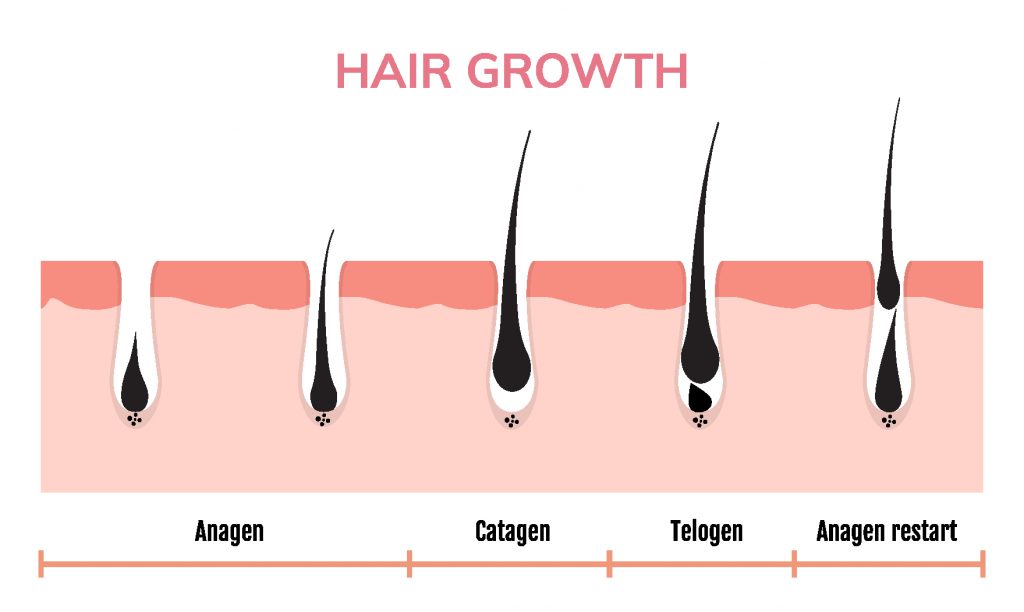 TRIGGERING FACTORS OF FEMALE PATTERN BALDNESS
The primary reasons are the same as for male pattern baldness, heredity and hormonal imbalances.
During a phase in their life, typically when they suffer from:
Polycystic ovarian syndrome (PCOD)

Thyroid issues

Estrogen insufficiency

Contraceptive intake

Menopause
The hair falls rapidly, certainly leading to bald spots if left untreated.
The hair cycle is in disruption. And the growth phase tends to become slower, causing diffused hair loss and later turns to female pattern baldness.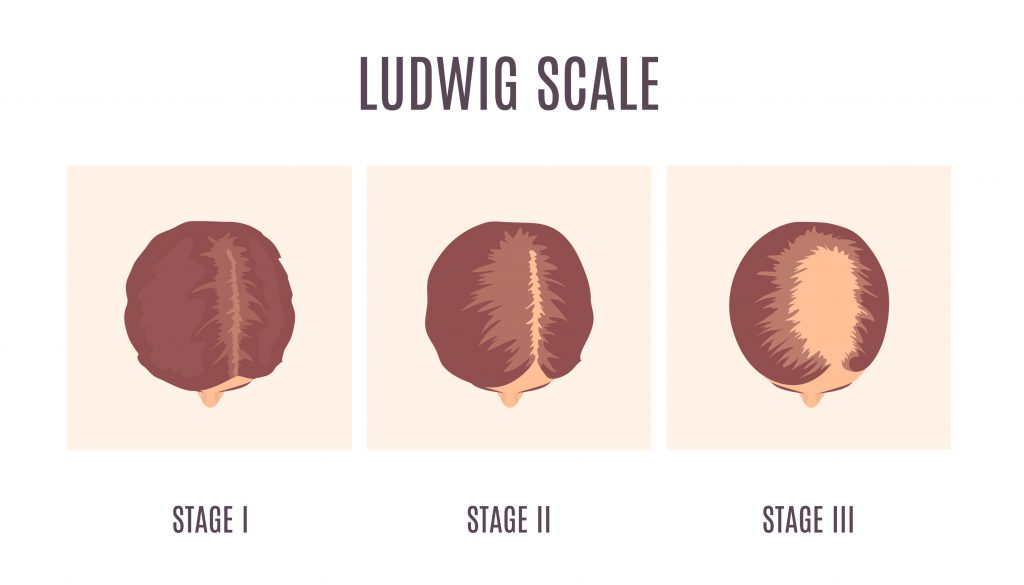 The triggering factors listed for male pattern baldness are also responsible for female pattern baldness.
During all these times, testosterone production and hormonal fluctuations are at their peak. This results in DHT formation, blocking cells from performing their own hair growth functioning.
To understand entirely about the triggers and how to prevent them, check this out.
TREATMENTS AND PREVENTION
Whereas in the female pattern baldness, the supplements will mainly focus on blocking the DHT formation and promoting estrogen production.
Since male pattern and female pattern baldness are the same except for the pattern of thinning, the treatments, preventions are all similar.
But the doses might vary depending on the individual's physiological and medical conditions. Unlike male pattern baldness, female pattern thinning does not occur frequently. And if it does, it will be due to hereditary and the above-listed phases in their lives. Above all, the condition is semi-permanent. Meaning it is curable by following proper treatments and lifestyle adjustments on a long term basis.
Considering the severity of the condition, there are some clinical treatments to nourish and get back the lost hair as well. If the condition is just onboard regular sessions will be provided after consulting with the doctor.
Popular treatments include,
PRP (Platelet-rich plasma) to stimulate hair growth in the same region

Stem cell therapies

Laser therapies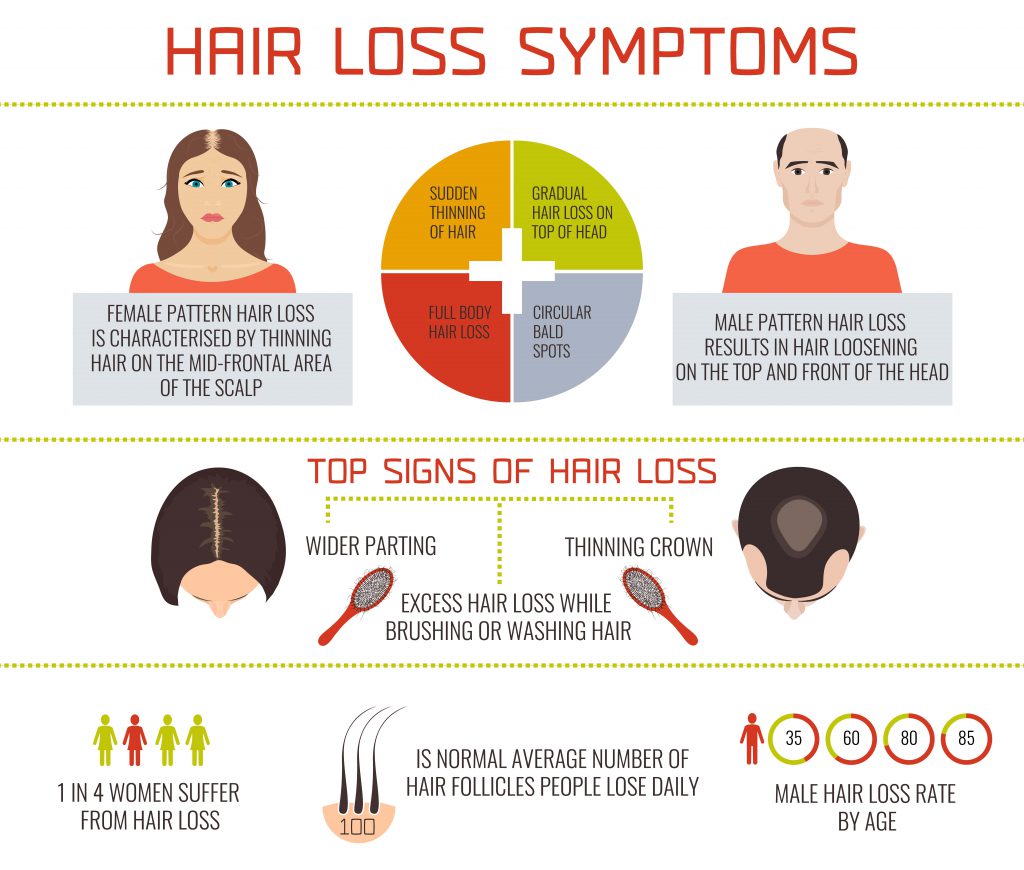 CONCLUSION
In conclusion, it is best to opt for a hair transplantation procedure after consulting a renowned physician. A doctor's assistance is recommended in worst-case scenarios where visible bald patches have already approached.
The reasons, phases and available treatment options are at your reach. If you are clear enough to picture these changes in your hair, it might be a condition of female hair fall. And we have some viable solutions for it. We offer an approach that will thoroughly diagnose your medical history, body vitals. Along with the severity of the condition and offer relatively ultimate solutions.
Did you know we specialize in providing Activated follicular transplant (AFT) for visible baldness and PRP, micro-needling for thinning hairs? Also, not missing out to mention our scalp infections curing treatments and medications as well.
Worried about COVID-19? Never. Because we are entirely safe and sane with following our client-friendly protocols.
Knock at our clinic's doorstep and leave back with happy hair and a lasting smile.